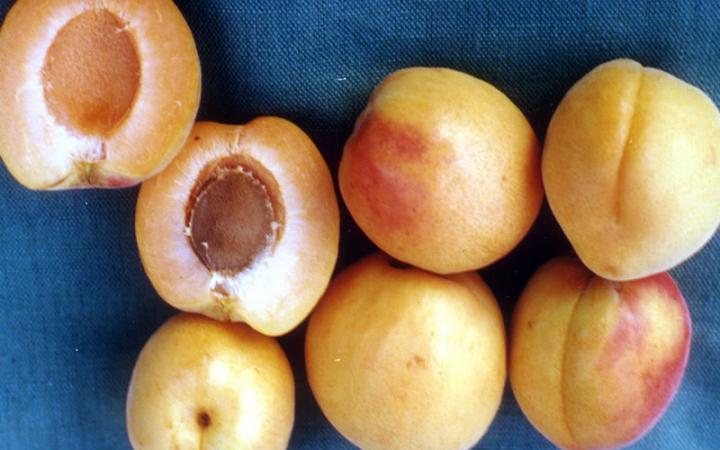 APRICOT Cluthalate
THE NEW ZEALAND INSTITUTE FOR PLANT AND FOOD RESEARCH VARIETY
0 Ratings
Cluthalate is a self-fertile, late season variety that ripens 30 days after Sundrop and 14 days after Moorpark. Its orange fruit is of medium size, with melting flesh that is sweet and juicy. Best grown in areas with cold winters and hot, dry summers.
Protected by NZ Plant Variety Rights (Cluthalate)
Late
Self Fertile
| | Jan | Feb | Mar | Apr | May | Jun | Jul | Aug | Sep | Oct | Nov | Dec |
| --- | --- | --- | --- | --- | --- | --- | --- | --- | --- | --- | --- | --- |
| Planting | | | | | | | | | | | | |
| Harvesting | | | | | | | | | | | | |
Apricot Cluthalate* is self fertile. If you have trouble with pollination, plant another variety of Apricot nearby.
Our Apricots are grown on Golden Queen seedling rootstocks. This rootstock determines the tree will reach 6m in height once established. Unfortunately there is no dwarfing rootstock available for stonefruit.
SOIL

Prefers well drained soil. 

PLANTING SITE

A sunny, sheltered position is best, protected from Spring frosts. Plant 4-5m apart from other apricot trees.

CLIMATE

Apricots perform best in temperate areas with dry spring weather. Most varieties need plenty of winter chilling but there are low chill selections that are suitable for warmer areas. 

WATERING

Water well during the early stages, during long dry periods and when the fruit is developing.

GENERAL CARE

Prune only during Summer after fruiting to minimise the chance of infection and bacterial canker. Paint all cuts with pruning paste.

PESTS & DISEASES

Apricots are vulnerable to some pests and diseases, including brown rot and bacterial canker. A preventative spray program is recommended, especially in areas with wet Spring weather.

PLANTING IDEAS

Apricot trees can be 'espalier' trained against a wall or fence in a fan shape.  

FRUIT

Fruit ripens from early to late summer

POLLINATION

Most varieties are self fertile, but will produce heavier and more regular crops if pollinated by another variety. 

TREE SIZE

Up to 5-6m.

RECOMMENDED PRUNING SYSTEM

Modified central leader or Vase shape. 

 
Your product review
Please Log in to rate this product:
Login