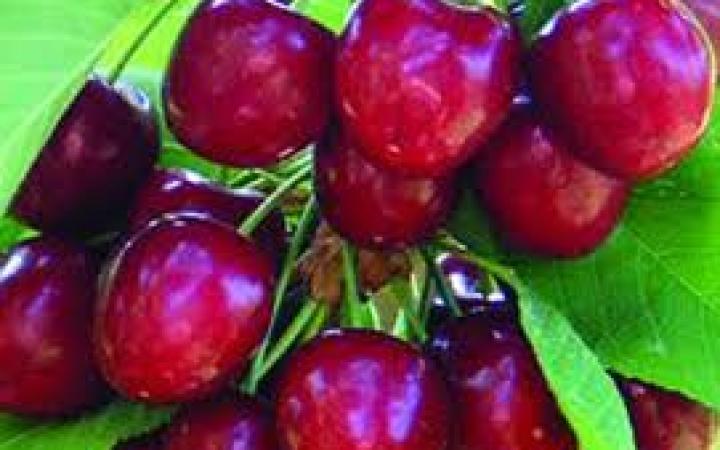 CHERRY DOUBLE - Stella & Lapins
0 Ratings
Two of the best quality cherries around, ripening in succession. 
Superb line of trees with the dual combinations on the one tree, with one variety grafted above the other producing a tiered effect with even growth habit.  Combinations are designed to meet all pollination issues and give extended fruiting times.
Double Grafted
Self Fertile
Sweet
These two varieties have been specifically selected to be grown together so as to allow cross pollination within the same tree.
Colt - Vigorous rootstock that grows to 5-6 metres. Good for difficult soil.
Edabriz - A dwarfing rootstock, tree grows to approximately 2-3 metres.
Edabriz interstem – Colt roots grafted with Edabriz on top, then grafted with the chosen variety. This way if you have difficult soil but still want a dwarf tree you can have the best of both worlds. Due to the Colt roots, vigour is a little higher than straight Edabriz. Tree grows to approximately 3-4 metres.
Cherries

SOIL

Prefers well drained soil, rich in potash and lime.

PLANTING SITE

Warm, sunny, dry and sheltered site is best, protected from Spring frosts. Plant 4-5m apart from other large trees.

CLIMATE

Cherries do best in areas with cold Winters, dry Springs and Summers.

WATERING

Water well during the early stages, during long dry periods and when the fruit is developing.

PESTS & DISEASES

Cherries are particularly prone to bacterial canker, silver leaf disease and aphids.

PLANTING IDEAS

Stonefruit trees can be 'espalier' trained against a wall or fence in a fan shape. Cherries on dwarf rootstocks may be planted in containers.

FRUIT

Fruit ripens from early to late Summer, depending on the variety.

POLLINATION

Some varieties are self fertile, while others require another variety for pollination.

TREE SIZE

Cherry trees can grow up to 7m tall.

RECOMMENDED PRUNING SYSTEM

Central leader or Vase shape.
Your product review
Please Log in to rate this product:
Login